Rizza Arales
Updated: Apr 17, 2022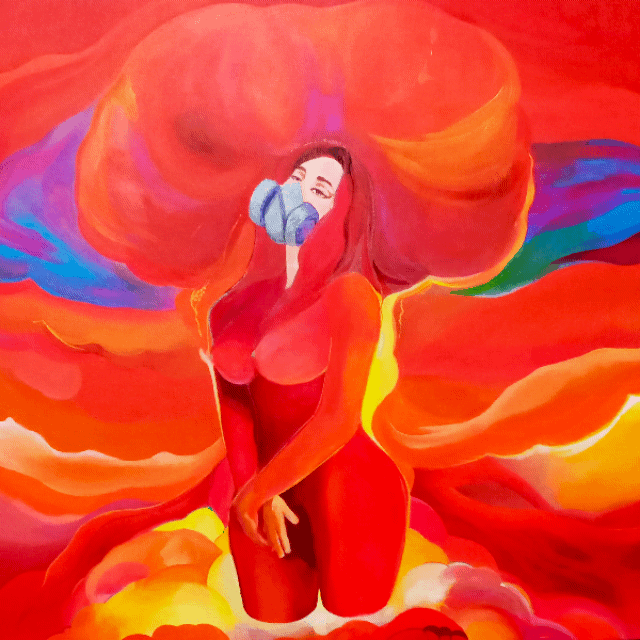 These years had been an emotional landslide for all of us. As much as we wanted to help the people that are in need we couldn't. For we must first help ourselves and prioritize the people that are closer to us. Not being selfish though, but that is the main key to surviving this abomination,
Some are lucky enough to be able to sustain their needs and continue a lifestyle that now is scarce and limited.
Title: Chaos and Chill 1
But some couldn't move forward and continue their daily lives. They can't show and be transparent about it.
These paintings I created for our group show called RECONNECTION by Artiste Space
together with 18 more artists in the metro. Curated by Norlie Meimban .
Shows my huge concern for mental awareness and self-care. I created a parallel view of artworks using acrylic fluorescent paint and black light.
To extend my message, that overthinking and uncontrollable emotions can cause illusions that lead to self-destruction and chaos. It's a hidden trigger on every one of us. An unspoken code that people are afraid to express and ask for help.
Title: Chaos and Chill 1 and 2
Medium: Mixed Media ( Luminous Art )
Size : 2x2 ft
Year: 2021
Artist: Rizza Arales
Dealing with anxiety and self-care during these chaotic times.
It's a woman overthinking her fate.
She is watching a big explosion of herself, wearing a gas mask and kissing the deadly smoke, holding a grenade (which symbolizes her anxiety and problems ) and sipping her cup of tea that makes her calm.
Title : Chaos and Chill 2


𝐵𝑒𝑖𝑛𝑔 𝑎 𝑠𝑡𝑟𝑢𝑔𝑔𝑙𝑖𝑛𝑔 𝑎𝑟𝑡𝑖𝑠𝑡/𝑐𝑟𝑒𝑎𝑡𝑜𝑟 𝑙𝑖𝑘𝑒 𝑚𝑒 𝑐𝑎𝑛𝑛𝑜𝑡 𝑒𝑥𝑝𝑟𝑒𝑠𝑠 ℎ𝑜𝑤 𝑚𝑢𝑐ℎ 𝑤𝑒 𝑡𝑟𝑦 𝑡𝑜 𝑏𝑒 𝑎𝑠 𝑠𝑡𝑒𝑎𝑑𝑓𝑎𝑠𝑡 𝑎𝑠 𝑤𝑒 𝑐𝑜𝑢𝑙𝑑 𝑠𝑜 𝑤𝑒 𝑤𝑜𝑛'𝑡 𝑓𝑎𝑙𝑙 𝑎𝑝𝑎𝑟𝑡 𝑎𝑛𝑑 𝑏𝑟𝑒𝑎𝑘 𝑜𝑢𝑟 𝑤𝑖𝑙𝑙 𝑡𝑜 𝑐𝑟𝑒𝑎𝑡𝑒. 𝑊𝑒 𝑠ℎ𝑜𝑐𝑘 𝑎𝑏𝑠𝑜𝑟𝑏 𝑒𝑣𝑒𝑟𝑦𝑡ℎ𝑖𝑛𝑔 𝑎𝑟𝑜𝑢𝑛𝑑 𝑢𝑠 𝑎𝑛𝑑 𝑒𝑥𝑝𝑟𝑒𝑠𝑠 𝑖𝑡 𝑖𝑛𝑡𝑜 𝑜𝑢𝑟 𝑜𝑤𝑛 𝑖𝑛𝑑𝑖𝑣𝑖𝑑𝑢𝑎𝑙 𝑚𝑒𝑑𝑖𝑢𝑚. 𝑊𝑒 𝑙𝑜𝑠𝑡 𝑔𝑟𝑒𝑎𝑡 𝑎𝑟𝑡𝑖𝑠𝑡𝑠 𝑡ℎ𝑖𝑠 𝑦𝑒𝑎𝑟, 𝑏𝑢𝑡 𝑤𝑒 𝑎𝑟𝑒 𝑎 ℎ𝑢𝑔𝑒 𝑙𝑒𝑔𝑖𝑜𝑛 𝑜𝑓 𝑝𝑎𝑖𝑛𝑡𝑒𝑟𝑠, 𝑙𝑒𝑡'𝑠 ℎ𝑒𝑙𝑝 𝑒𝑎𝑐ℎ 𝑜𝑡ℎ𝑒𝑟 𝑎𝑛𝑑 𝑖𝑛𝑠𝑝𝑖𝑟𝑒 𝑚𝑜𝑟𝑒 𝑝𝑒𝑜𝑝𝑙𝑒 𝑜𝑛 𝑜𝑢𝑟 𝑤𝑜𝑟𝑘𝑠.


Thank you so much: Rowel Wellers Vicencio and to Norlie Meimban for welcoming me to the community.
Reconnection September 26 - November 22, 2021 2L Unimart Capitol Commons Pasig City
for more info please contact ArtisteSpace Inc. https://www.artistespace.com/